Power may be compared to an iceberg where only a quarter is visible above the water, whilst the other three quarters are submerged and hidden. Secrecy is vital for the maintenance of Power and it has many forms, but its main concern is the protection of wealth and for those with more Machiavellian goals the ability to gain control, authority and influence over others. Secret Offshore tax havens, lobbying and political consulting firms are part of the secret power network that threatens democracy.
It was no surprise that Liz Trust, serving as Secretary of State for International Trade and President of the Board of Trade UK since July 2019 in Boris Johnson's cabinet, promised to create up to 10 new tax free zones at ports and airports in the UK post Brexit. The move was criticised for providing tax havens promoting tax evasion and money-laundering opportunities. Singapore-style tax free zones compare to 250 free-trade zones in the US.
Tax free zones however, contribute to patriarchal wealth accumulation, which has changed the face of society and politics. Many of the powerful supporters of the Brexit campaign wanted the UK to become a tax haven and according to leaked papers are participants in offshore interests, a practice that is legal but questionable in terms of fairness and ethical behavior. Today the question arises post the 'Panama Papers' and 'Paradise Papers' together with events involving the company Cambridge Analytica, whether mind control of the electorate is occurring on an industrial scale through illegal data mining. Data has become the new commodity.
Aaron Banks who donated £8.5m to Nigel Farage and the campaign to leave Europe was revealed in leaked papers as co-owning offshore interests in the Isle of Man. Lord Magan a former Conservative party chairman who donated £1.5m to the Tories also appears in leaked papers, along with the Barclay brothers, who own the right wing Telegraph newspaper, which is a staunch supporter of Brexit and Boris Johnson. Robert Edmiston a big funder of the Leave campaign also appeared, along briefly with Jacob Rees-Mogg and his old Etonian friend who has managed Rees-Mogg's multi million-pound investments.
Rees-Mogg a conservative politician and staunch Brexiteer is currently serving as Leader of the House of Commons UK and Lord President of the Council since 2019 under Johnson's premiership. Leaked papers also revealed data of the husband and brother-in-law of Andrea Leadsom another Brexiteer and British Conservative politician currently serving as Secretary of State for Business, Energy and Industrial Strategy since 2019 in Johnson's government. A Channel 4 Dispatches programme also revealed how many senior MPs are charging significant amounts (up to £100,000) to speak on the lecture circuit on Brexit.
Lakshmi Mittal the world's richest person and steel magnate, was one of several key donors, who poured cash into the leadership campaign of Boris Johnson. He was at the center of cash for influence scandal in 2002 after Tony Blair (former Labour Prime Minister UK) wrote a letter promoting the sale of Romania's state steel company to the billionaire weeks after the Labour Party had accepted a £125.000 donation from him. In 2007, workers for Mr Mittal accused him of "slave labour" after dozens of people died in his mines in Kazakhstan. Mr Mittal has been on the board of directors of Goldman Sachs, the infamous global bank, which repeatedly arose in The Secret History of European Union.
The rich and super-rich sometimes termed oligarchs, invariably shield their wealth in tax havens and secrecy regimes. The Paradise Papers refer to a leak of 13.4m files, where most of the documents (6.8m) relate to details of offshore clients of a law firm and corporate services provider that operated in 10 jurisdictions under the name of Appleby. Also leaked were details of 19 corporate registers maintained by governments in secrecy jurisdictions. The papers covered the period from 1950 to 2016.
The Panama Papers refer to an earlier leak from the database of the world's fourth biggest offshore law firm, Mossack Fonseca. Both leaks showed the myriad of ways in which the rich can exploit secretive offshore tax regimes. The Panama Papers revealed twelve national leaders were among 143 politicians, their families and close associates from around the world known to have been using offshore tax havens. A $2bn trail even leads to Vladimir Putin, the Russian President.
The Papers revealed that an offshore investment fund run by the father of a previous British Prime Minister – David Cameron avoided ever having to pay tax in Britain by hiring Bahamas residents to sign paperwork. It was legal and the fund was registered with HM Revenue and Customs and the fund filed annual detailed tax returns.
Those who were uncovered in the leaks both companies and individuals, had one common objective – the protection of wealth. Companies such as Apple, Nike and Facebook and individuals such as Queen Elizabeth, Prince Charles, Lord Ashcroft and even Bono and Lewis Hamilton surfaced in the leaks. Lord Ashcroft one of the Tory party's biggest donors held a previously unknown trust in Bermuda sheltering his vast overseas wealth. The trust was created in 2000, just after he became a Peer.
The files exposed a huge offshore tax industry which is complex and very difficult to police, with multiple strategies in which companies and individuals can avoid tax using artificial structures. These schemes shamefully are legal, when conducted properly, but in many cases they are not and can lead to tax evasion and money laundering and also support of terrorism.
The Papers demonstrate that the wealthiest in our society avoid sharing their wealth to fund overstretched public services: their actions contribute to economic inequality in society and which ultimately threatens the future of the planet. These people are usually the first to line up with so-called eco-friendly credentials at 'save the planet' jamborees. Donations presumably presented as philanthropy, deriving from tax saved in offshore accounts. Hypocrisy is never far from the elite.
The Paradise Papers revealed that the Prince of Wales (Prince Charles) private estate – the Duchy of Cornwall invested millions of pounds in offshore funds and companies including a Bermuda registered business in forestry that was being run by one of his old friends Hugh Van Cutsen a horse breeder who owned a 1,600 hectare estate in Norfolk UK. There was no tax advantage but questions arose over whether the Duchy should have publicly declared the investment in a company that might have directly benefited from the impact of the Prince's longstanding support for conservation projects. Whilst the royal household publishes annual accounts, it doesn't go into details about investments and where they are made, omissions that have been repeatedly challenged by parliamentary committees and campaign groups.
The Duchy's main purpose is funding the public charitable and private activities of Prince Charles and his family. It is surprising therefore that it was the hard pressed taxpayer who was asked to pick up the £2.3m bill for renovating his son's (Prince Harry) house in Windsor, particularly as the house itself was a gift and thus effectively cost nothing. Even more surprising when the Duchy owns 53,000 hectares of land in 23 regions (counties) of Britain, It is a major business with interests in commercial and residential property and farmland; where accounts in 2017, showed assets of £913m.
A number of Lords appeared in the Paradise Papers, which raises the question of why Peers are specifically entitled by the Lords Code of Conduct to keep family trusts secret, whilst they have to declare most other significant financial interests on the official register. The truth is the rich make the rules of a system which is rigged in their favour. Many of these Peers have not given one speech or participated in meaningful debate. It is ridiculous that there are still 92 lords making laws that govern the UK with no claim to power other than historic family connections to the landed classes. And they include a number of Scots "nobles" who use the system's £300-a-day plus expenses allowance while wielding their undemocratic power to push for changes to government policy that serve their own interests. The system is archaic and reform is needed particularly ways of paying certain beneficiaries that can legally reduce tax on money accumulated in a trust.
Trusts held by British taxpayers can be held anywhere in the world and unlike companies many do not have to be recorded on any central register. In 2017 the Conservative government predictably voted down Labour amendments to the financial bill that would have forced the UK beneficiaries of overseas trusts to declare their sources of property and income on a public register.
The Paradise papers revealed the property and land empire of the dukes of Westminster, where dividends worth millions of pounds went into secretive companies in Bermuda and Panama. Hugh Grosvenor inherited the Grosvenor Group in 2016 without having to pay the 40% death duties the ordinary taxpayer is expected to pay. The leaked files revealed the structure used to manage the estimated £9.5bn fortune of the seventh duke, who owns much of Belgravia and Mayfair in London, considered prime and exclusive land. He also owns 165,000 acres of British countryside along with hundreds of developments in North America, Australia, Hong Kong and an island in Vancouver.
The power of lobby groups acting to protect the wealthy was highlighted in the Papers. The International Financial Centres Forum (IFC) boasted of having "superb penetration" at the highest levels of the British government before a G8 summit that was expected to bring more transparency into the offshore business.
The IFC worked frantically behind the scenes to thwart an overhaul that would have introduced new obligations for Britain's overseas territories and crown dependencies. Appleby the law firm at the centre of the Paradise Papers leak and a member of the IFC helped to co-ordinate the resistance, which involved meetings with ministers, senior civil servants, Conservative MPs and Lords. This occurred on David Cameron's watch (Conservative, Eton educated, Bullingdon club member and then Prime Minister). The measures agreed at the G8 summit in 2013 were far reduced from the original proposal. The Papers offered a rare insight into how the offshore business worked to press for policy changes to be diluted at a time when regulators were privately criticising Appleby for failing to adhere to existing regulations designed to thwart money laundering and terrorist financing.
The arrogant and self-serving argument put forward by the IFC was that increased transparency would expose offshore territories to "endless media stories", by investigative journalists and unwelcome scrutiny by tax campaigners and NGOs. David Cameron as chair of the G8 summit backed down after the IFC held secret meetings with David Gauke (then exchequer Secretary to the Treasury); senior officials at HMRC; the Permanent Secretary at the Department for Business Innovation and skills; and two Tory Peers, Lord Blencathra and Lord Flight; Dominic Martin a senior official in the Cabinet Office who was then director of the UK presidency unit; and a "crucial meeting" with the senior Treasury official Shona Riach.
The Labour MP Margaret Hodge told parliament the Paradise Papers had revealed a "toxic mixture" of tax dodgers and offshore wrong doing undertaken with the complicity of the UK government. Hodge who had campaigned for reform of Britain's tax havens said: "we are not just complicit in what happens – we are central to its success"; where Britain and its overseas territories and crown dependencies had become "the place of choice" for those wanting to hide their wealth and avoid tax.
Thirty MEPs in the European Parliament called for action against tax havens; however such is the power of wealth that no action materialised. Many of these tax havens were the creation of the UK and a legacy of the colonial empire. The world has changed and the threat that inequality brings to society including access to resources will ultimately threaten the planet. More concerning is the role of tax havens and individual wealth to sponsor political parties and interfere in elections, threatening democracy.
Escalating patriarchal wealth held in secret allows unknown persons to organise think tanks and lobby groups which influence political and economic policies. Wealth can finance and direct required political and economic outcomes. The strategy employed is the dialectic of thesis and anti-thesis and by directing funds into one side more than the other, one can achieve the desired outcome. Leave or Remain in the EU is a clever use of the dialectic where the outcome is engineered (The Secret History of the European Union vol. 2, p. 102). Much evidence for this and the power of the banking system was given in the Secret History of European Union: 'The B.I.S (Bank of International Settlements) was nothing less than the creation of a world system of financial control, in private hands, able to dominate the political system of each country and the economy of the world as a whole" (The Secret History of European Union vol. 1, p. 415). Indeed the banking system and certain super-wealthy individuals had an integral part to play in forming European Union, conducted under the cloak of stealth and secrecy.
Information warfare funded by so-called 'patrons' using blogs, videos, ads, websites and news channels can alter outcomes of elections threatening democracy, but also it would seem the outcomes of referendums. "…The point is that the few are indeed few and their problem has been throughout the ages of how to herd the many…the trick has always been for them, how to manipulate the masses of humanity into demanding the very route the elite have planned…" (The Secret History of the European Union vol. 1 p. 374).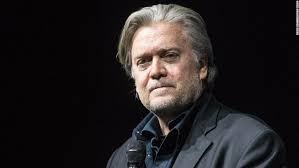 The former White House chief strategist to Donald Trump Steve Bannon produced a book in 2015, 18 months before Trump became President. In the book Bannon accused Hilary Clinton of trading favours for donations to her charitable foundation. There were also questions based on an alleged central charge of the sale of a uranium company to Russia. The book was the basis of the "defeat crooked Hilary" ad campaign the Trump team ran. This propaganda strategy is as old as Methuselah and was carried out by the secret group behind the French Revolution and the unrelenting attacks made on Maria Antoinette by the Freemasons (Theatre Earth – Who Pulls the Strings? vol. 2, p. 171).
The Paradise Papers and public filings revealed how the billionaire Mercer family built a $60m (£45m) war chest for Conservative causes inside their family foundation by using an offshore investment vehicle to avoid US tax. It was all legal. Robert Mercer was Bannon's patron and funded Bannon's book. You could say Mercer through Bannon helped to bring Trump to the White House. Mercer donated $41m to federal election campaigns over the past decade and is an influential figure in US conservatism. Mercer's foundation is barred from intervening in election campaigns, but in the past decade has given $62m to conservative research groups and think tanks which strengthen Republicans. From 2013 -2015 the foundation gave $4.7m to Bannon's Government Accountability Institute (GAI). Since then the GAI paid Bannon $379.000.
GAI claimed "misuse of taxpayer monies" was central to its mission. The hypocrisy evidently did not register, or if it did no-one expected the leaked Paradise Papers. Mercer, Bannon's patron was president and co-chief executive of Renaissance, managing more than $50bn in assets. The Internal Revenue Service (IRS) had been pursuing Renaissance for $6.8bn in federal taxes that it was accused of improperly avoiding through practises described as "abuses" in a 2014 investigation by a Senate committee.
Nigel Farage, previous leader of the Brexit Party was friends with Steve Bannon and it was questioned how far Brexit came under the influence of a company called Cambridge Analytica. Bannon was a vice President of the British consultancy firm of Cambridge Analytica, a company that was involved with the psycho-profiling of swing voters using Facebook data of members without their permission. A current Netflix documentary revealed that a whistle-blower and data scientist Chris Wylie called the company a "full service propaganda machine".
An investigation by Channel 4 News revealed the head of Cambridge Analytica, Alexander Nix, boasted of using dirty tricks to swing elections. He talked of creating sex scandals, and using fake news to swing votes. A senior staff member of the company claimed the firm was involved in US elections and behind the "defeat crooked Hillary" ad campaign.
Bannion on the floating edge of Breitbart news network a syndicated news and opinion website, held their doctrine that if you fundamentally want to change society, you first have to break it. Bannon claimed oligarchs wanted deconstruction of the administrative state. Gosh that's familiar haven't we heard that mantra before? "Destruction before Construction." Wasn't that the mantra for Iraq, although they only got around to destruction and forgot construction. Out of chaos of course comes money to be had, which was the case in World War 1 and the Russian and French Revolutions: "We set ourselves the ultimate aim of destroying the state" – V. Lenin (The Secret History of European Union vol. 1, p.292). The secret groups consider they are like the banks "doing God's work" of "regeneration" and the phallus is never far from the EGO and this doctrine (The Secret History of European Union vol. 2, p. 74): the ever present phallus and psychology of the elite seen in the Grand Temple within Freemasons' Hall, London (Theatre Earth – Who Pulls the Strings? Vol. 1, p. 171) and regularly paraded on the world's stage.
Brittany Kaiser former director of business and development at Cambridge Analytica maintained that the Trump and Brexit campaigning could have been conducted illegally. Kaiser was also associated with the Brexit campaign through Vote Leave. The strategy was to target those whose mind could be changed "the persuadables" in swing states, using social media data to change behaviour. Kaiser claimed "Big Tech companies are evolving into digital kleptocracies" comparing this form of "communication warfare" to Psi-ops used by the military in warfare. Actually it is a form of black magick (with a K): "A vehicle, a horse and a driver, this is the whole of (black) magic if one only knew how to look at it." (The Secret History of European Union vol.2, p. 101)
George Blake the Soviet spy predicted "individual choice would eventually be mastered by a Central Soviet Control of thought process". Perhaps a kleptocracy will accomplish the same end. The unpalatable truth is that 87m Facebook users had their data mined and harvested by Cambridge Analytica and this data was used to swing elections. It seems that only 70.000 voters in 3 targeted states decided the US election which brought Trump to the White House. Given the links it might be democratic to hold a second referendum, but with no advertising or media input.
Leaked documents revealed that two Russian state institutions with close ties to Vladimir Putin funded substantial investments in Twitter and Facebook, through a business associate of Jared Kushner, President Trump's son-in-law and senior White House adviser. This raised concerns over Russian influence in US politics and Russia's alleged attempt to disrupt US democracy. The whole thing may have been a clever diversion to take attention off the offshore funding of political parties, lobby groups and alleged connections with firms like Cambridge Analytica, and of course Robert Mercer's patronage of Bannon: the real threats to democracy.
Boris Johnson's economic policy is one of tax cuts, mainly targeted at the wealthy. He often refers to the "Laffer curve" where the theory is tax cuts incentivise entrepreneurial drive, encouraging overtime and high earnings, yielding more tax. Ireland 30 years ago had a corporation tax rate of 50% but collected less revenue from companies as a share of its national income than the US or the EU as a whole. In the 1990s Ireland cut its rate to 12.5% and collected much more than high tax countries. The extra revenue originates from multinationals creating fictitious profits, which by magic end up in Dublin or Cork in Ireland. However for workers in other countries that created the profits, they see that end up not in their own country and taxed thereby assisting in the society, but in assisting the Irish government and that society which can then spend more on roads, hospitals and public services. One has to question the morality of that and how this ultimately affects world poverty and inequality.
Further Johnson's plan for tax free zones in the UK, would probably see companies and individuals moving into that area at the expense of other areas in order to reduce tax. The cry would come to make the whole country a tax haven wouldn't it? It does appear to be a stealth strategy.
It might seem logical for a country to reduce corporation tax, or become a tax haven, but that only contributes to the greater inequality in countries that have been deemed "shitholes" by President Trump. Enormous profits are dumped in offshore tax havens, which mean that country accumulates large amounts of money relative to its size.
US corporations now make 63% of all their foreign profits in six havens, prominently in the Netherlands. Apple used Jersey for their tax erasing arrangement. Corporate tax avoidance only enriches the already wealthy and the deficit is made up by raising taxes on lower income households making it harder for these people to survive or have any form of life. The poor simply get poorer and the inequality gap gets wider. Tax havens deprive the EU of the equivalent of a fifth of the corporate tax revenue it collects; this represents a cost of 60bn Euros per year. For the UK alone the bill adds up to about £12.7 bn.
Above 50% of the wealth held in tax havens belongs to those with more than $50m in net wealth or those described as "ultra-high-net-worth individuals" and yet however represent only 0.01% of the population in advanced economies. Queen Elizabeth's private estate – the Duchy of Lancaster, was revealed in the Paradise Papers to have invested in a Cayman Islands fund as part of an offshore portfolio that was secret and undisclosed. The complex arrangements of the Duchy were not set out in the royal household's annual statements. In 2017 the Duchy had assets worth £519m. How far the Queen subsidises a series of what can only be described as 'hangers on' – an extended, redundant and expensive royal family, unable despite their privileged education to stand on their own two feet, is unclear. In this day and age it is archaic.
The main concern is how far these offshore funds dictate politics. The Paradise Papers also revealed that the chief fundraiser and senior adviser to Canadian prime minister, Justin Trudeau's rise to power, was involved in the movement of millions of dollars to offshore havens. Stephen Bronfman, heir to the Seagram fortune played a key role in Trudeau's successful bid for the leadership of the Canadian Liberal Party in 2013 and the premiership two years later. Bronfman engaged through his family investment business's in a complex web of entities in the US, Israel and the Cayman islands. The Bronfman's and the Cayman Islands-based trust of Leo Kolber a senior Liberal and former Canadian senator collaborated. Trudeau's family inheritance was already being scrutinised after the leaked Panama Papers. Justin Trudeau's father was Pierre Trudeau a former Prime Minister of Canada, underlining my point in a previous blog of nepotism and political dynasties, seeking to mimic royal dynasties.
The extent to which the off shore business has continued to exert control over politics was further revealed in the leaked Papers where extensive offshore dealings by Donald Trump's cabinet members, advisers and donors, including $68m in payments from a firm belonging to Vladimir Putin's son-in-law were made to the shipping group of the US commerce secretary, Wilbur Ross.
In all these cases there is no illegality, but the extent to which political parties can benefit from offshore money, has reached a tipping point in terms of democracy.
Greta Thunberg the teenage environmental activist should take advice from those who have long experience of the front battle lines. The young generation however never listen to the wisdom of the older generation, preferring to damn them all. She has yet to wake up to the complex web that surrounds environmental issues. She is attending the UN Climate Action Summit in New York with the assistance of Pierre Casiraghi, nephew of Prince Albert of Monaco and son of Princess Caroline, daughter of Prince Ranier and Grace Kelly.
Casiraghi is sailing to New York in his racing yacht with Greta Thunberg who is avoiding airlines in order to save on carbon emissions. He claims that his racing yacht is probably one of the few boats in the world that is totally zero fossil fuel. Again the wealthy have no monitor on hypocrisy or reality, in this case Monaco is a tax haven for the wealthy. Many ultra-wealthy people choose to live in Monaco because it has no income tax, unless you're a French citizen, and no capital gains tax. It also has a limited estate tax – you can leave your holdings to your spouse and direct heirs and pay no taxes.
Thunberg should have rejected the offer of his transport to New York and traveled by cargo ship. However as these things go, the ego becomes increasingly developed, rather than the cause. Casiraghi as a regular in Hello! magazine is snapped with aristocrats and no doubt can with the aid of Thunberg raise his environmental credentials whilst living in a tax haven as part of the super-rich thereby contributing to the problems of the planet.
The beehive with a queen bee, serviced by worker bees was seen as a societal model for society by secret groups. Adam Weishaupt the infamous head of the secret group of the Illuminati was in conversation to refer to it as the desired model of society (Theatre Earth vol. 1).
Catch me next time!